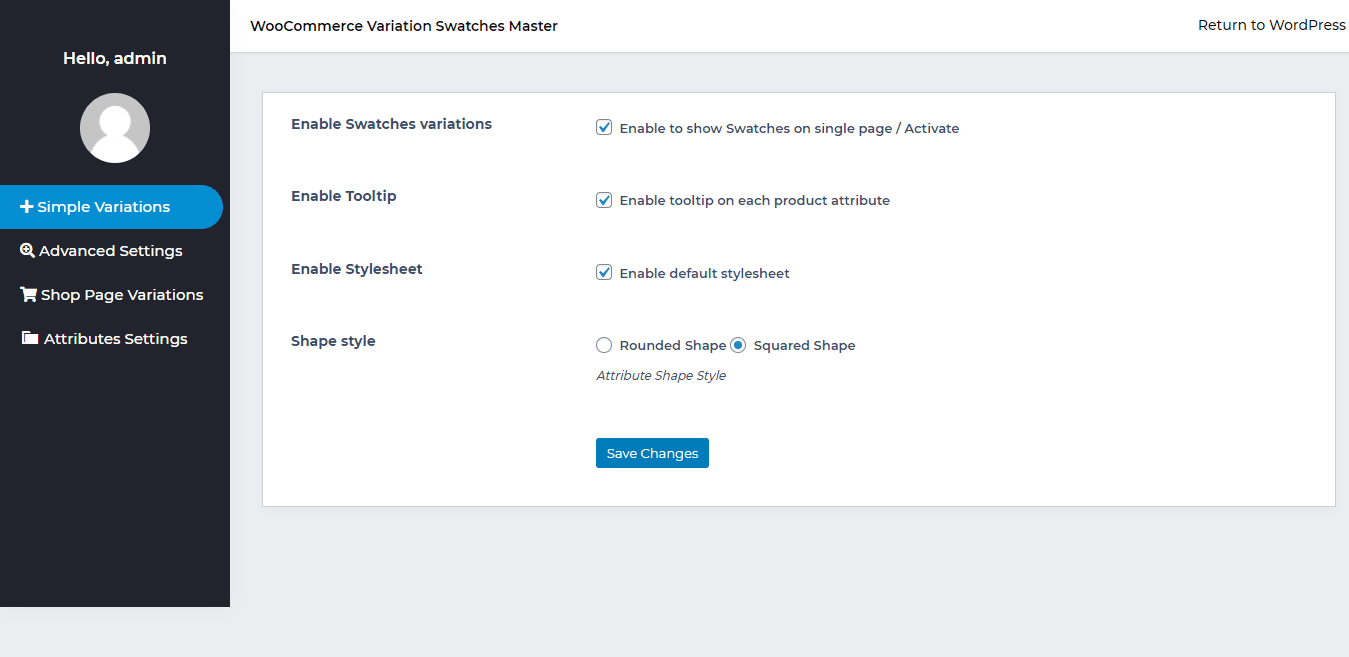 Here, you can manage your swatches with few clicks for all your available variations for the products. This simple variation setting allows you to Enable/Disable Swatches for variations on Single/Product Page, Tooltips can also be enabled/disable from this setting, default stylesheet for display on Single page can be enabled/disable from here. Shape style can be chosen between Rounded and Squared shape.
Next comes advance setting which allows you Display border on selected attributes, clear on reselect setting comes with the dynamic feature which cleared the attributes which were previously selected by the user. Ajax variation threshold provides you access to load all your products via ajax but we recommend it disable it due to it can break your attribute behavior settings. Auto Dropdowns to button allows you to set all WooCommerce default attribute into swatches, check hide add to cart button on shop page will hide add to cart button on shop page. Attribute behavior can be of three types a) Blur with cross b) Blur without cross & c) Hide, which shows the effect on a single page. You can also customize the attribute's width, height & font size here for a single page.
Here Comes with Shop page variations settings, that allow you to access all the variation swatches settings for the shop page. First, you need to enable swatches for the Shop page, now you will see swatches for the shop page. you can select to be attribute fade when it is not available, you can add image selector such as .wp-post-image. You also can select display behavior of swatches that either be before add to cart or after add to cart button, swatches alignment management is here these are like left, right & center. Enabling tooltip will show tooltip for all available attributes variations tooltip as hover it also has the feature of image tooltip, show clear link displays clear link on shop page for clearing selected attributes. You can also customize items height, width & font-size for variations on shop page.
Here you need to add attributes with available custom type. these are radio, image, color & button you can also view these in the next rectangle where types are listed.
Here attributes terms can be added as the type you had chosen previously if the color was chosen you will be avail to choose a color for that and if the image you will be able to select an image. the same image, color, text & button text will be appera to the customer.